The most powerful storm to hit the Bahamas since records began has torn roofs from buildings and caused severe flooding.
The slow-moving, category five Dorian – the second-strongest Atlantic hurricane on record – is now packing sustained winds of up to 175mph (280km/h).
A "life-threatening" storm surge of 23ft (7m) is predicted in places.
The hurricane is moving slowly westwards and may hit areas of the eastern US seaboard.
The US states of Florida, Georgia, North and South Carolina have all declared states of emergency.
There is no official word from the Bahamas yet on casualties.
What's the latest from the Bahamas?
The US National Hurricane Center (NHC) said that at 06:00 GMT, Dorian was moving slowly westwards through Grand Bahama, having made landfall earlier on the Abaco islands, which are just to the east.
Both chains are in the north of the Bahamas archipelago. Grand Bahama, with a population of about 50,000, is only 100km (60 miles) east of West Palm Beach in Florida.
Dorian is travelling west at just 5mph (7km/h).
The NHC said the hurricane would "continue to pound Grand Bahama Island" through much of the day and evening on Monday.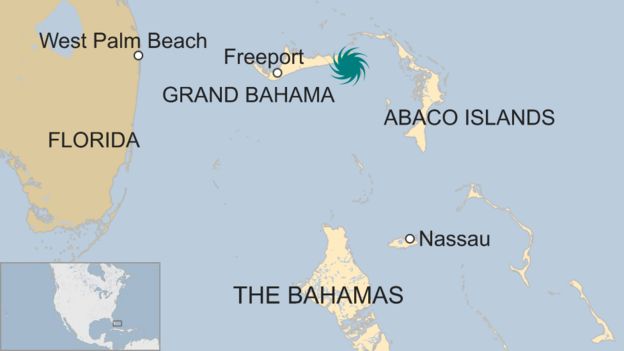 There was little information overnight from the affected Bahamas islands amid power cuts and limited internet access.
However, video and tweets posted by Latrae Rahming, a former aide to ex-PM Perry Christie, showed severe damage on the Abaco Islands, home to about 17,000 people.
Cars have been flipped over, roofs torn off and water at the coast is shown to have reached roof level at some points.
"We have lost the economy of Abaco. Praying for safety and lives," Mr Rahming tweeted.
Read more here>>> https://www.bbc.com/news